United Arab Emirates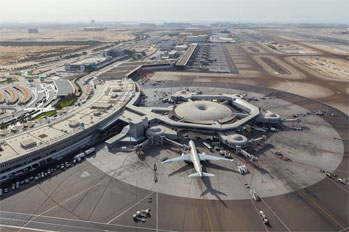 The Abu Dhabi Airports company (ADAC) engaged ASAP s.r.o. to take part in the modernisation of Abu Dhabi International Airport. ASAP s.r.o. has designed new flight procedures to take into account the new stagger of the 2 parallel runways.
The Dubai Department of Civil Aviation (DDCA) contracted ASAP s.r.o. to design new flight procedures (SIDs, STARs, ILS, VOR/DME) for the new parallel runway 12R/30L. These new flight procedures are completed and now enable the operation of the new runway.
ASAP has completed a major project for Al Bateen airport in the United Arab Emirates. This project comprises procedure design and aeronautical charting. To read more click here.
All the following instrument procedures were designed and fully documented by ASAP s.r.o. using our PHX instrument procedure design software.
Procedures:
2 ILS approaches
2 VOR/DME approaches
2 GPS/GNSS approaches
3 Standard Instrument Departures (SIDs)AIP ready aeronautical Charts:
6 approach charts
1 SID chart
2 obstacle limitation charts type "A"
Aerodrome chart
Parking docking chart
Dubai
Abu Dhabi
Al Bateen
VOR/DME 12R
GPS R13R
GPS R13
RNAV ILS 12L
GPS R31L
GPS R31
VOR/DME 12L
GPS R13L
ILS Cat 1 R13
VOR/DME 30R
GPS R31R
ILS Cat 1 R31
ILS Cat 1 R30L
LLZ only 13L
Minimum Sector altitudes
ILS Cat 1 R12R
LLZ only 31R
SIDs 13
LLZ 30L
ILS Cat II/III R13L
SIDs 31
LLZ 12R
ILS Cat II/III R31R
SIDs 30L
ILS Cat 1 R13L
SIDs 12R
ILS Cat 1 R31R
SIDs 30R
VOR/DME ILS Cat 1 R13
SIDs 12L
VOR/DME ILS Cat II/III R31
VOR/DME R13
VOR/DME R31