Procedure designer and Cartographer Olga Whitworth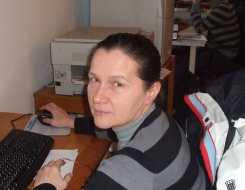 Education: Universita Komenskeho Bratislava – Masters Degree in Theoretical cybernetics and Mathematical analysis.
Mrs. O. Whitworth was previously employed as chief of the Slovak Aeronautical Cartography Department of the Slovak Civil Aviation Authority since its conception in 1992. She was one of three people involved in the formulation and setting up of this section. Her duties included responsibility for all aspects dealing with aeronautical charts contained within the Slovak AIP. This work entailed creation of new charts and amendments to existing charts throughout Slovakia. She was also a valued member of the Eurocontrol WGS84 Implementation group and the Eurocontrol Chart tasking group.
In 2004 she left the Slovak Aeronautical Cartography Department and joined the team at ASAP s.r.o. Initially she was mainly involved in chart production and specifically helped to complete the following projects:
Production of new aeronautical charts for the European Aeronautical Group (EAG)
Data build and data generation of AIP charts for Greece and Saudi Arabia
In 2005 Mrs. Whitworth completed a 6 week Pans-Ops training course. Over the next year she gained proficiency with extensive on the job training in procedure design. Since that time she has worked as both an IFR procedure designer and a Cartographer.
Mrs. Whitworth worked on major projects in Albania, Congo and Slovakia, to name a few. Mrs. Whitworth has also been involved in over 100 full special aeronautical studies of buildings and structures in the vicinity of various airports around the world.